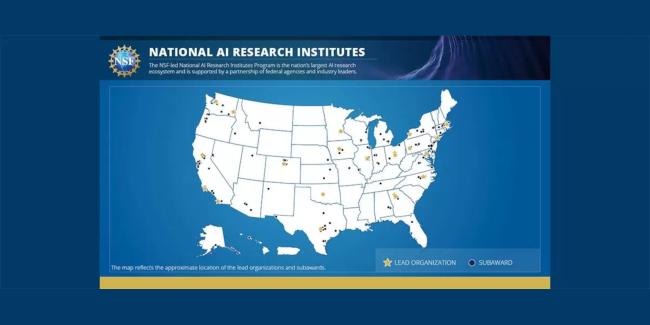 The US National Science Foundation announced an investment of $140 million to launch seven new Artificial Intelligence Research Institutes across the country. Per the NSF, this investment is "part of a broader effort across the federal government to advance a cohesive approach to AI-related opportunities and risks." The announcement came as a number of A.I. chief executives gathered at the White House to discuss recent concerns about their technology's impact on modern society. The new NSF AI Institutes will address some of these concerns as they advance research on ethical and trustworthy AI. Each institute will be an interdisciplinary effort with a unique focus and will draw from a collaborative network of partnering campuses and institutions.
One of the seven new institutes will be established at the University of California, Santa Barbara. Named the NSF AI Institute for Agent-based Cyber Threat Intelligence and OperatioN (ACTION), this cutting-edge research center aims to revolutionize the way mission-critical systems are protected against sophisticated cyber threats. The institute is set to begin operations on June 1st, 2023, and puts UCSB at the forefront of research and innovation in the fields of Artificial Intelligence and Cybersecurity.
The ACTION Institute will collaborate with experts across 11 educational institutions to develop intelligent agents that use complex knowledge representation, logic reasoning, and learning to identify and respond to breaches in a timely and scalable fashion. By integrating learning and reasoning, human-agent and agent-agent interaction, and strategic gaming and tactical planning, the institute aims to provide fundamental innovations in several AI domains.
The ACTION Institute is also committed to being a nexus for educational institutions, government agencies, non-profit organizations, and industry. The institute will train the next generation of the cybersecurity workforce and work towards transitioning novel AI-powered technology into real-world security operations.
For more information about the ACTION Institute, see articles published by the UCSB Current and the Purdue University News.
Location
UC Santa Barbara